Uganda
In Uganda, monitoring of a number of species has been undertaken over the last four decades (mainly large savannah ungulates but also some forest primates and wetland species). From these data sets it has been possible to construct a series of indices using the LPI method, which show a decline in the abundance of vertebrate species in the country's natural ecosystems from 1970 to 2006.


For some species, the rates of loss have been close to catastrophic. Two-thirds of Uganda's forest cover since 1900, 60% of Crowned Cranes since 1970, a third of the species of fish in Lake Victoria and more than 90% of the once-famous Kampala bats have disappeared. However, some things are of course increasing, most noticeably the Marabou Storks in Kampala. In fact, birds as a group are holding their own.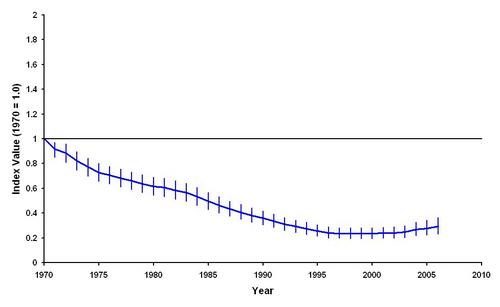 The Living Planet Index for Uganda 1970-2006 (48 species). Bars are 95% confidence limits.
Collaborators
The LPI for Uganda was produced in collaboration with the National Biodiversity Data Bank (NBDB) - which publishes the 'State of Uganda's Biodiversity' report series. The NBDB, founded in 1990, monitors the national biological resources in Uganda and provides information to conservationists, government agencies, NGOs and others interested in the conservation and sustainable utilisation of these resources.